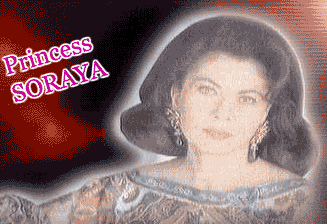 PRINCESS SORAYA ESFANDIARY BAKHTIARY

---

PRINCESS SUREYYA (QUEEN)
1951 yilinda,17 yasindayken Sah Riza Pehlevi ile evlendiginde civil civil
bir genc kizdi Sah ile tam alti yil mutlu ve gorkemli bir hayat yasadi.Ancak ona
bir cocuk veremeyince bu mutlulugu bir anda golgelendi ve Sah'tan ayrilip Avrupa'ya surgune
gonderildi.O zamanin parasiyla Sah'tan 18 bin sterlin maas,on milyon riyal'de para almisti.Bunun disinda tum
kiymetli mucevherlerini alabilecegi soylenmisti.Sah sii geleneginde oldugu gibi baska biri ile evlenip ama
onunlada birlikte olabilecegini soylediginde bati egitimi almis olan Sureyya
bunu gururuna yedirememis ve ayrilmayi tercih etmisti.Prenses Sureyya guzelligi ve yasadigi sayisiz askla
bir donem o denli konusulan bir insan olduki sinema filmi bile cevirdi.
Ozellikle unlu aktor Maximillian Schell ile bulusmak icin Istabul'a Hilton oteline
kosuyor ve askini tazeliyordu.Hatta Bebek'te yakalandiklarinda olay karakolda sonuclanmisti.
Yillar sonra tahttan ayrilip surgune giden Sah icin,Prenses Sureyya'nin ahinin
tuttugu soylenir artik bir oglu vardi Sah'in ama ulkesi ve tahti yoktu...
Kralice Sureyya ve Sah'in 1956 yilindaki Turkiye seyahatleri basinda
buyuk yanki uyandirmisti.ERSIN Faikzade'nin arsivindeki bu fotograflardan
bir kismini sitede gorebilirsiniz!


The story of her divorce from the Shah inspired the French songwriter,
Francoise Mallet-Jorris, to write
"Je Veux Pleurer Comme Soraya" (I Want to Cry Like Soraya).



The article about Princes Soraya, By Ersin Faikzade has been so successful that there have been lots of readers and so the magazine has been reprinted.



Soraya, the Queen with emerald green eyes

She was number one smart woman in the world...

She was the empress and all the new born babies were names "Soraya".



Ersin Faikzade's Articles-PARIS -- Soraya Esfandiari Bakhtiari, 69, the second wife of the Shah of Iran, was found dead, apparently from natural causes, in her Paris apartment Oct. 25, Paris police said. The cause of death was not reported.


- Princess Soraya Esfandiari Bakhtiari,
Cok zarif bir kadindi, kralicelik, Sureyya'ya yakisiyordu
SHE WAS THE MOST BEAUTIFUL PRINCESS ALL TIMES.